Sample Title Page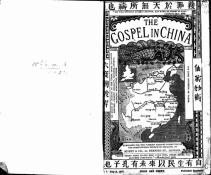 Reproduced by permission, the British Library
The first of the illustrated newspapers, The Illustrated London News
"dominating the illustrated news market…with sales that exceeded 60,000 copies an issue in the first year and 100,000 by 1852, and approached 200,000 in 1856.… Its advertisement soliciting subscribers for 1855 emphasized the number of the illustrations -- 1,000 engravings of the Crimean War alone in 1854..." (Black, pp.199-200).
It introduced the idea of a tabloid, a speedy presentation of the news and with the use of first rate illustrations (at first engravings) a more accurate representation of that News.
"It was launched in 1842 and was radical in its use of large-scale images, its use of color and positioning of advertising. However, the ILN
's stated aim was to record progress and it promised a 'complete record of all the events of the week, at home, abroad, or in the colonies.'
It was the epitome of respectability and suitable for consumption and display in middle-class homes. The ILN
enriched accounts of wars, official ceremonies, accidents and disasters with images of these events." (Beegan, p.119)
The Graphic was a main rival of this magazine.
Sample records about:
Chemistry